A Peace of History
Scottish CND's 60th anniversary exhibition and website
Peace Education Scotland
School speakers, Resources, The Nuclear Weapons Debate
Join Scottish CND
Join us in the campaign for nuclear disarmament
Details

Published on Friday, 26 January 2018 09:54
Scottish CND are very worried about a recent announcement by the Bulletin of Atomic Scientists that the Doomsday Clock has moved thirty seconds closer to midnight , with 2 minutes to go.
Arthur West chair of Scottish CND said:
"This is very worrying news about the Doomsday Clock moving dangerously closer to midnight.
This news actually means that scientists have looked at the military and political developments of the last year and made the assessment that nuclear war and climate change are more likely to lead to disaster than would have been the case last year."
Details

Published on Friday, 19 January 2018 15:18
 Scottish CND recognised the importance of ICAN's work in securing the Treaty to Prohibit Nuclear Weapons and the Scottish contribution to the negotiations. Scottish CND is proud that ICAN was  awarded this year's Nobel Peace Prize. In response,we have resolved to hold a March and Peace Rally at Faslane on the 15th September 2018
The aim is to to highlight the strength of support from many UN member states for Scotland, a country hosting nuclear weapons against its wishes and excluded from signing the ban treaty despite longing to do so. This international support can be demonstrated through a huge turnout from ICAN partners everywhere, and presents a clear challenge to the UK Government to recognise the TPNW, enter negotiations and decommission Trident.
In our 60th anniversary year, Scottish CND is Scottish CND is taking a lead in initiating the organisation of the the rally through a working group, collaborating with other ICAN partners in Scotland, the Scrap Trident Coalition and others. We will also be in liaison with ICAN International groups and CND UK to maximise promotion, support and participation in the rally.
The March and Rally will also of course highlight the continuing campaign to scrap trident and spend the money saved on decent things like Health and Education. Scottish CND are setting up a working group to plan and organise the details. The first meeting of the working group takes place on Monday February 5 at 6.30 pm in Scottish CND in the Scottish CND office at 77 Southpark Avenue, Glasgow, G12 8LE
This meeting is open to Scottish CND members and supporters and members and supporters of organisations within the wider Scottish Peace Movement.
Details

Published on Friday, 05 January 2018 12:56
The chair of Scottish CND is very disappointed that US president Donald Trump has circulated a distasteful message on Twitter about having a nuclear button which is much bigger and more powerful one than North Korean leader Kim Jong Un.
Arthur West chair of Scottish CND said -
For Trump to make of remark of this kind about nuclear weapons is incredibly distasteful.
The use of nuclear weapons anywhere in the world would result in massive loss of life as well as causing substantial environmental damage .
Arthur West added -
On a positive note recent days have seen some direct dialogue between North Korea and South Korea which may lead to a more positive relationship in the future.
Anyone interested in a more peaceful world will welcome this recent contact between the two Koreas but deplore the inflammatory and unhelpful Trump comments .
Details

Published on Wednesday, 20 December 2017 14:01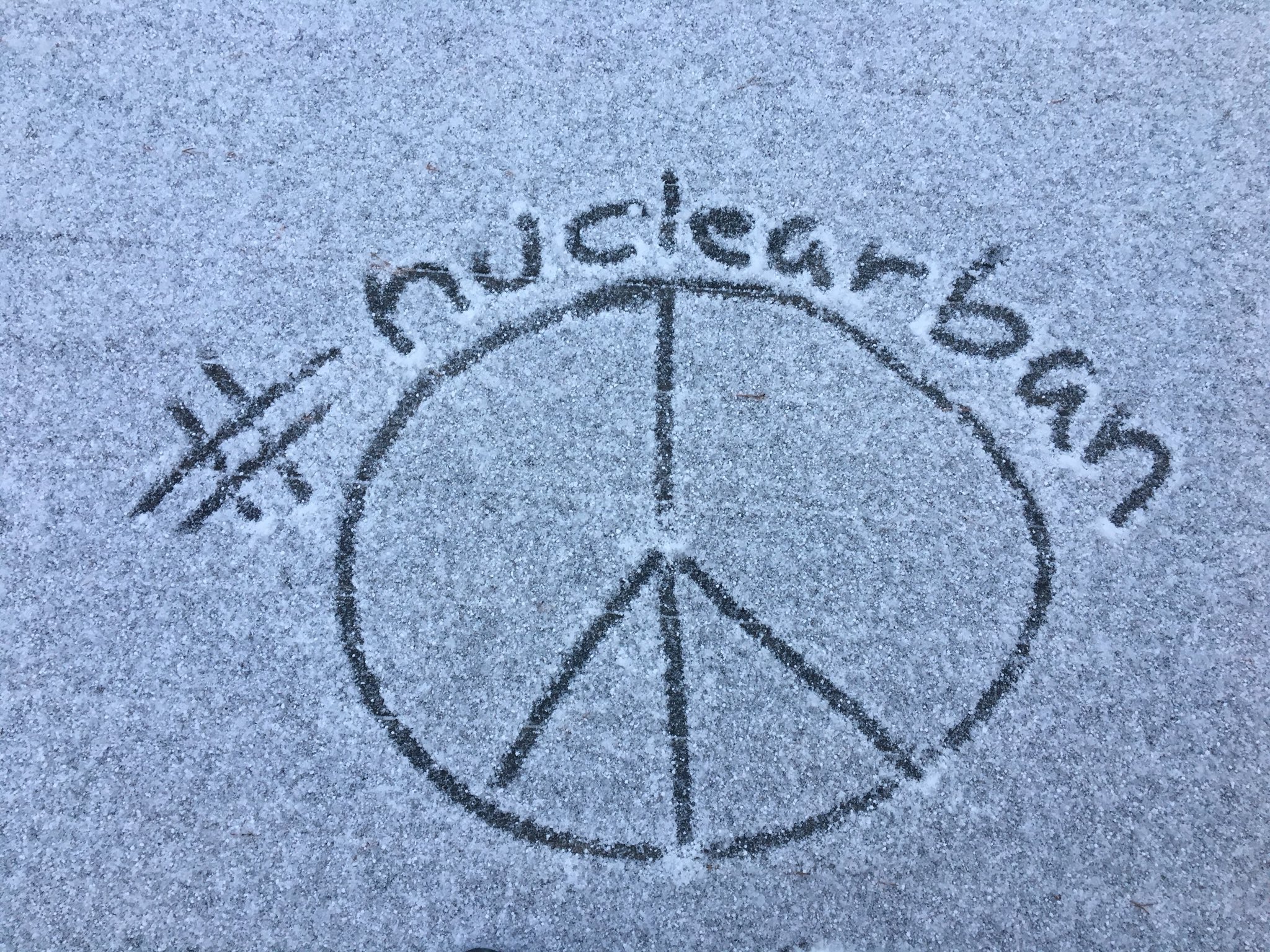 We wish all our members and supporters
Happy Holidays
and
Alll the Best for 2018.
We enjoyed 2017, the year we won the Nobel Peace Prize (as a partner of ICAN)
...and we are looking forward to 2018 , when we will be working to harder than ever get Britain signed up to the UN  Global  Ban Treaty. 
Details

Published on Thursday, 07 December 2017 10:24
Across Scotland this coming weekend people will be celebrating the award on Sunday in Oslo of this year's Nobel Peace Prize to ICAN for their work towards the Treaty for the Prohibition of Nuclear Weapons (TPNW)1 which was adopted by the UN in July this year. Here is a list of the events we know about. If you are are organising one that is not on this list please let us know by emailing This email address is being protected from spambots. You need JavaScript enabled to view it. . We aim to post photos from all the events on the Scrap Trident Facebook Page. These events are open to all.
Details

Published on Thursday, 23 November 2017 08:44
With the mass signing today by all SNP MSPs a clear and cross-party majority of Scottish parliamentarians are now committed to work for the new UN nuclear ban treaty – the Treaty to Prohibit Nuclear Weapons 1(TPNW).
At Holyrood all SNP and Green MSPs, plus three Labour MSPs (including leader Richard Leonard), and all of the 35 SNP MPs at Westminster, plus Labour's Ian Murray, have signed the ICAN Parliamentary Pledge2, which commits signatories " to work for the signature and ratification of this landmark treaty by our respective countries . " First Minister Nicola Sturgeon has also signed the Pledge. Today's signing comes just two weeks before ICAN, the civil society organisation that has worked for the Treaty, will receive the Nobel Peace Prize in Oslo3.
Details

Published on Wednesday, 08 November 2017 16:11
CO Memorial Competition Now Open
Deadline for Applications 15 December
The Peace & Justice Centre and the Conscientious Objectors Memorial Committee are pleased to announce the Design Competition for a permanent Memorial to Conscientious Objectors to be created in Edinburgh's Princes St Gardens.
Artists are invited to submit applications by 12 noon 15 December 2017. A shortlist of three or four artists will be engaged to create designs for the Memorial.
View and Download the Brief Here.
Queries should be directed to: This email address is being protected from spambots. You need JavaScript enabled to view it.
Background 
Following approval of our petition for a memorial to conscientious objectors the City of Edinburgh has committed to work with us to find a suitable location for the memorial.
Our proposal for a site in Edinburgh's Princes St Gardens will be considered for approval when we submit a design. We aim to install the Memorial by April 2019, the centenary of the end of the First World War for COs who were released from prison in April 1919.