Trident
Details

Published on Wednesday, 20 December 2017 14:01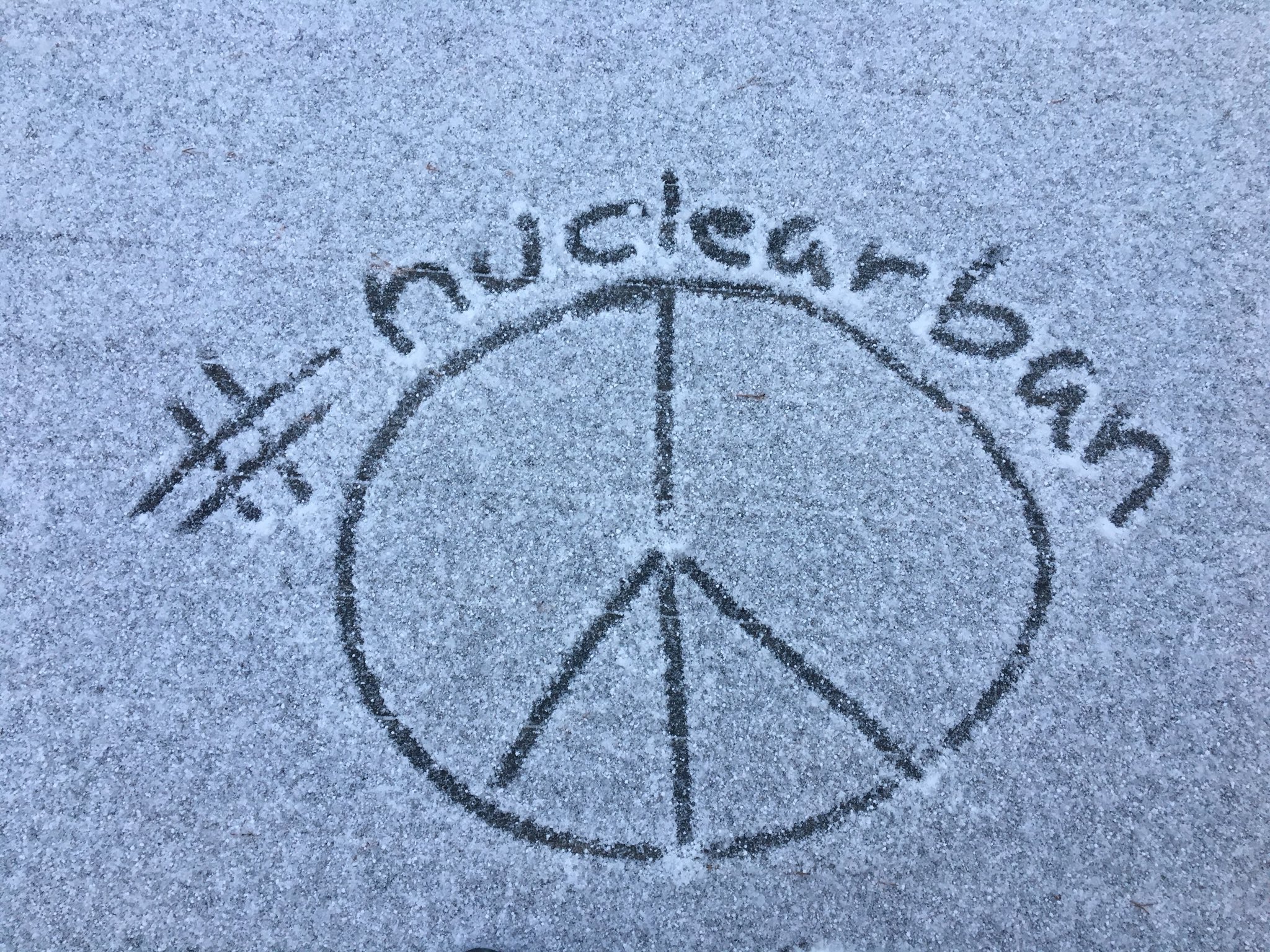 We wish all our members and supporters
Happy Holidays
and
Alll the Best for 2018.
We enjoyed 2017, the year we won the Nobel Peace Prize (as a partner of ICAN)
...and we are looking forward to 2018 , when we will be working to harder than ever get Britain signed up to the UN  Global  Ban Treaty. 
Details

Published on Friday, 27 October 2017 10:56
Please join us for our AGM and Annual conference at 
St Columba's by the Castle, 14 Johnston Terrace, Edinburgh, EH1 2PW 
on Saturday November 11 
( please note, this is not the venue originally advertised) 
Details

Published on Thursday, 26 October 2017 10:52
Green MSPs have been supportive of the  UN Treaty to Prohibit  Nuclear Weapons (TPNW) ,  every one of them signed has signed the ICAN Parliamentary Pledge and supported the action at the Parliament the day the TPNW opened for signature.
Details

Published on Thursday, 21 September 2017 14:49
The Treaty on the Prohibition of Nuclear Weapons opened for signing on 20 September 2017, at the United Nations Headquarters in New York. This was a historic moment, when heads of states and foreign ministers gathered in New York for official signatures on this groundbreaking treaty. More than 50 countries signed in the first 8 hours. 
As the UK is against this international initiative, Scotland wanted to show solidarity and support for the ban treaty and organised its own Citizens Signing Ceremony in front of the Scottish Parliament. Many MSPs signed, along with campaigners, tourists from all parts of the word or local people passing by the parliament. 
More photographs 
Details

Published on Thursday, 17 August 2017 09:48
The current tensions between North Korea and the US continue to give concern.
Scottish CND take a firm view that diplomacy is the best way forward.
Arthur West chair of Scottish CND said,
'Donald Trump needs to think before he speaks.
'As former US Vice President Al Gore said he needs to listen to those sensible voices who are urging diplomacy and restraint in this difficult situation.'
Details

Published on Monday, 10 July 2017 09:51
Scottish CND is delighted that on Friday 7th  July 2017 a global treaty banning nuclear weapons was passed at the United Nations in New York.
The treaty was supported by 122 countries at the United Nations Headquarters after months of talks in the face of opposition from nuclear armed states.Disgracefully the UK government did not take part in the talks.
The treaty is 10 pages long and will be open for nations to sign at the United Nations General Assembly in September.The treaty also puts nuclear weapons on the same footing as landmines, biological and chemical weapons which were banned a number of years ago.

It is really disappointing that the UK Government did not take part in these historic talks.However there is evidence to suggest that UN treaties can be effective even when some nations fail to sign up to them.The US did not sign up to the landmines treaty but has now changed its landmines policy to comply with the treaty.
Scottish CND believes that the treaty will have an impact on the behaviour of nuclear weapons states.
Details

Published on Friday, 07 July 2017 13:47
This is a frequent response to opening a discussion about global nuclear disarmament with people outside the peace movement. Especially in the light of recent events some people are subscribing to the idea that we 'need' nuclear weapons to keep us 'safe'. A recent press release from Nuclear Free Local Authorities (NFLA) an organisation to which SCND is affiliated and which we strongly support, tackles this question head on. It explains why at a time like this a nuclear weapons ban treaty, even if everyone doesn't immediately sign up to it, matters more than ever. The press release argues that the test firing of an 'intercontinental ballistic missile' by North Korea is proof positive of the need for a nuclear weapons ban treat. A summary of their viewpoint is presented below. The full press release , with contacts and  references can be found here 
Details

Published on Thursday, 06 July 2017 10:17
Friday is the big news day.
The United Nations is convening negotiations on "a legally binding instrument to prohibit nuclear weapons, leading towards their total elimination". This new international agreement will place nuclear weapons on the same legal footing as other weapons of mass destruction, which have long been outlawed, despite the absence of nuclear armed states, over 130 member states are supportive of the treaty being negotiated.
Details

Published on Friday, 23 June 2017 15:01
We are sorry to hear of the death of  Bovey formerly a senior activist in Scottish CND. Keith made a very significant to Scottish CND and the wider Scottish peace movement.
Our thoughts are with his family at this sad time.
Private family committal service at Corstorphine Hill Cemetery, followed by a funeral service on Monday, June 26, at the Braid Hills Hotel, Edinburgh EH10 6JD commencing at 11.30 am, to which all family and friends are respectfully invited.
Details

Published on Sunday, 18 June 2017 13:02
As you all know, one of our co- organisers, Flavia, is in New York taking part in the negotiations for the Global Ban Treaty at the UN as part of the civil society contingent. Flavia and her colleagues in the five- strong Scottish delegation report that the discussions are awesome, detailed and intense.
Daily updates from them are available on www.nuclearban.scot 
More general Daily updates from the negotiations are available from Reaching Critical Will