A Peace of History
Scottish CND's 60th anniversary exhibition and website
Peace Education Scotland
School speakers, Resources, The Nuclear Weapons Debate
Join Scottish CND
Join us in the campaign for nuclear disarmament
Details

Published on Monday, 12 February 2018 10:56
As we start a New Year Scottish CND is working on ideas to continue the struggle to rid our country and our world if the scourge of nuclear weapons.
Our plans for 2018 include the organisation of a national Rally at the Faslane Nuclear Weapons Base on Saturday September 22nd. This Rally will be preceded by a March from the Faslane Peace Campaign just outside Helensburgh to the base.
It is expected that representatives from peace movements in various parts of the world will speak at the Rally. An invite is also being sent to Scotland's First Minister Nicola Sturgeon to speak at the Rally.
One of the main themes  of the March and Rally will be the continuing campaign to get scrap the Trident nuclear weapons system which is housed at Faslane. These weapons of mass destruction cost millions of pounds to maintain and this is money badly needed for investment in public services such as health and education. However the March and Rally will also highlight the Treaty for the Prohibition of Nuclear Weapons which was passed at a special session of the United Nations in July 2017.
This ground breaking and historical treaty was supported by 122 countries .
The treaty opened for signature on September 20th 2017 and will remain open for all states to sign and ratify. Unfortunately the UK Government has shown no signs of recognising the treaty.
However despite this lack of interest from the UK Government the treaty has a very good chance of becoming part of international law in the not too distant future. Basically when 50 countries sign and ratify the treaty it becomes part of international law. It will then be binding on those countries not to develop,test,acquire or threaten to use nuclear weapons.
Scottish CND are confident that as support for the treaty develops it will have a practical and political impact on the UK Government .If the treaty becomes law it will put nuclear weapons possession clearly beyond the pale. It will also reduce the status or political value attached to these weapons.
As well as the March and Rally Scottish CND is also planning to organise a number of activities to mark the 60th anniversary of CND.
These plans include:
A summer full of outreach activities, street work and stalls at festivals across Scotland "The Nuclear Ban Tour"
The development of a mobile exhibition called Scotland - a Peace of History. This exhibition will look at the Scottish journey of CND and the wider peace movement. It is hoped to launch the exhibition in Autumn 2018 and encourage local groups, schools and other supporter organisations to take the exhibition to various places across Scotland .
Peace Education Scotland which is the educational arm of Scottish CND are organising a Youth Peace Campaigning Academy for more than 100 young people. This exciting project will take place in Glasgow in July 2018 and will involve a 3 day programme on all aspects of campaigning work. Sessions will cover issues such as communications tactics, grassroots empowerment and digital engagement.
Details

Published on Thursday, 08 February 2018 09:31
CHANGE OF DATE FOR FASLANE RALLY (NOW ON 22ND 
SEPTEMBER)
SCND held an executive meeting this evening where it was decided that we would postpone the rally we had planned when ICAN won the Nobel Peace prize which will be held at Faslane Nuclear Base in order to avoid a clash with an independence rally in Glasgow. We hope this will work out well for us all. Watch this space for details of the rally which will be on the 22nd September.
Details

Published on Friday, 26 January 2018 09:54
Scottish CND are very worried about a recent announcement by the Bulletin of Atomic Scientists that the Doomsday Clock has moved thirty seconds closer to midnight , with 2 minutes to go.
Arthur West chair of Scottish CND said:
"This is very worrying news about the Doomsday Clock moving dangerously closer to midnight.
This news actually means that scientists have looked at the military and political developments of the last year and made the assessment that nuclear war and climate change are more likely to lead to disaster than would have been the case last year."
Details

Published on Friday, 19 January 2018 15:18
 Scottish CND recognised the importance of ICAN's work in securing the Treaty to Prohibit Nuclear Weapons and the Scottish contribution to the negotiations. Scottish CND is proud that ICAN was  awarded this year's Nobel Peace Prize. In response,we have resolved to hold a March and Peace Rally at Faslane on the 15th September 2018
The aim is to to highlight the strength of support from many UN member states for Scotland, a country hosting nuclear weapons against its wishes and excluded from signing the ban treaty despite longing to do so. This international support can be demonstrated through a huge turnout from ICAN partners everywhere, and presents a clear challenge to the UK Government to recognise the TPNW, enter negotiations and decommission Trident.
In our 60th anniversary year, Scottish CND is Scottish CND is taking a lead in initiating the organisation of the the rally through a working group, collaborating with other ICAN partners in Scotland, the Scrap Trident Coalition and others. We will also be in liaison with ICAN International groups and CND UK to maximise promotion, support and participation in the rally.
The March and Rally will also of course highlight the continuing campaign to scrap trident and spend the money saved on decent things like Health and Education. Scottish CND are setting up a working group to plan and organise the details. The first meeting of the working group takes place on Monday February 5 at 6.30 pm in Scottish CND in the Scottish CND office at 77 Southpark Avenue, Glasgow, G12 8LE
This meeting is open to Scottish CND members and supporters and members and supporters of organisations within the wider Scottish Peace Movement.
Details

Published on Friday, 05 January 2018 12:56
The chair of Scottish CND is very disappointed that US president Donald Trump has circulated a distasteful message on Twitter about having a nuclear button which is much bigger and more powerful one than North Korean leader Kim Jong Un.
Arthur West chair of Scottish CND said -
For Trump to make of remark of this kind about nuclear weapons is incredibly distasteful.
The use of nuclear weapons anywhere in the world would result in massive loss of life as well as causing substantial environmental damage .
Arthur West added -
On a positive note recent days have seen some direct dialogue between North Korea and South Korea which may lead to a more positive relationship in the future.
Anyone interested in a more peaceful world will welcome this recent contact between the two Koreas but deplore the inflammatory and unhelpful Trump comments .
Details

Published on Wednesday, 20 December 2017 14:01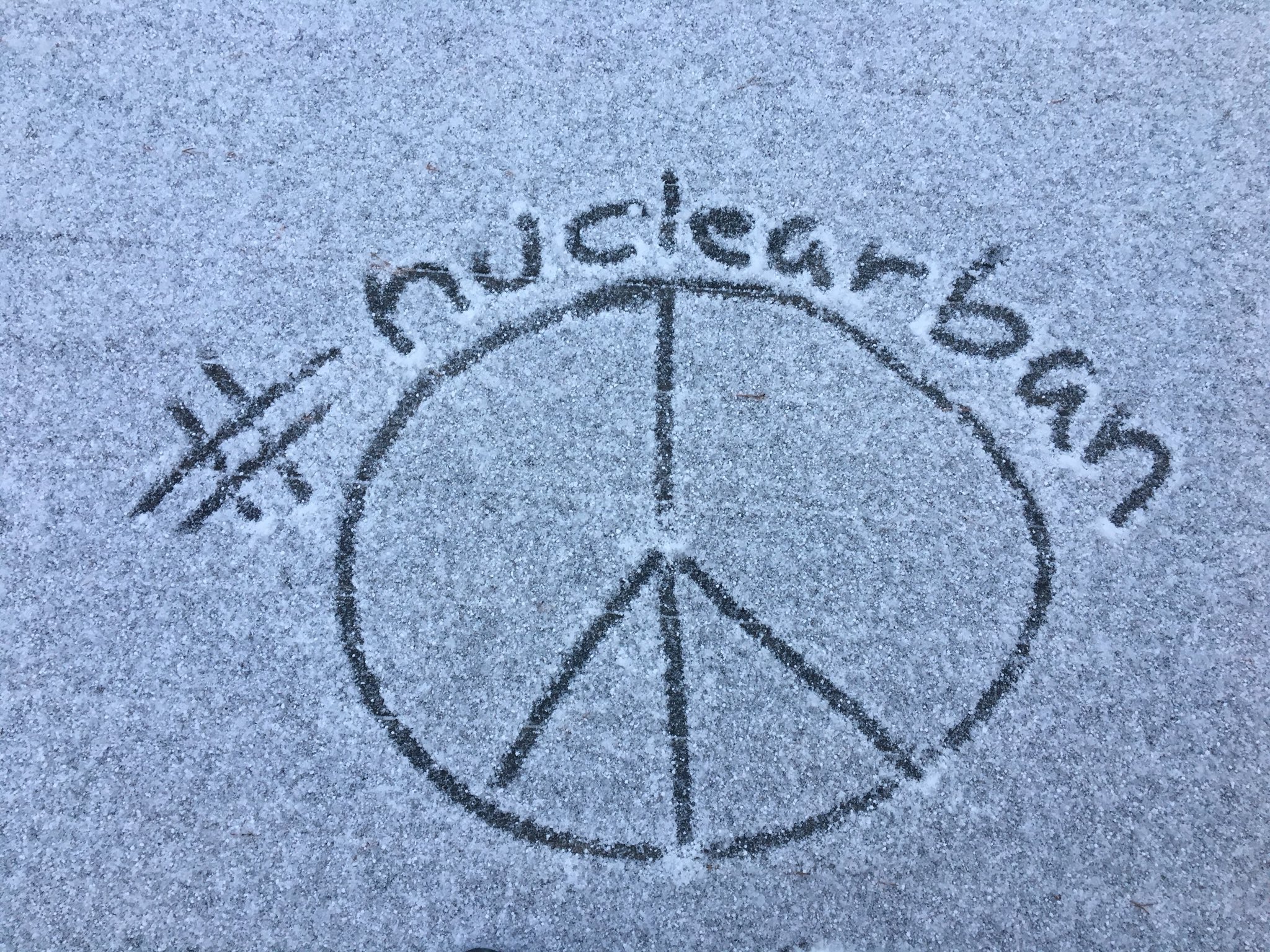 We wish all our members and supporters
Happy Holidays
and
Alll the Best for 2018.
We enjoyed 2017, the year we won the Nobel Peace Prize (as a partner of ICAN)
...and we are looking forward to 2018 , when we will be working to harder than ever get Britain signed up to the UN  Global  Ban Treaty. 
Details

Published on Thursday, 07 December 2017 10:24
Across Scotland this coming weekend people will be celebrating the award on Sunday in Oslo of this year's Nobel Peace Prize to ICAN for their work towards the Treaty for the Prohibition of Nuclear Weapons (TPNW)1 which was adopted by the UN in July this year. Here is a list of the events we know about. If you are are organising one that is not on this list please let us know by emailing This email address is being protected from spambots. You need JavaScript enabled to view it. . We aim to post photos from all the events on the Scrap Trident Facebook Page. These events are open to all.