News
Select a news topic from the list below, then select a news article to read.
Details

Published on Thursday, 05 April 2018 08:48
Stirling University CND are raising money this summer by providing volunteers to the Workers' Beer Company, who run bars at music festivals and is owned by Battersea and Wandsworth TUC. 
Queens of the Stone Age Concert: 30th June 2018
Finsbury Park Festival: 1st July 2018
Lovebox and Citadel: 13th - 15th July 2018

You'll need to do a maximum 7 hour shift per day (usually less than this) serving alcohol in a bar. In return, you'll be provided with accommodation, one hot meal per day and transport to and from the festival (provided you make your own way to regional pick up point). 
All the time you're not working, you have free access to the festival and the time's your own. You'll also get 2 drinks vouchers per shift worked which can be exchanged for a pint of beer or cider or a glass of wine (soft drink option available). 

For each hour you work, Scottish CND will receive £7 which will go towards funding the campaign for nuclear disarmament and projects such as this summer's Peace Academy (applications still open). 
Details

Published on Wednesday, 04 April 2018 13:19
Arthur West, chair of Scottish Campaign for Nuclear Disarmament, expressed his disgust about the recent Government announcement that they are set to spend an extra £600 million on the Dreadnought submarine programme which is part of Westminster's plan to replace the Trident nuclear weapons system.
Arthur West:
"It is absolutely disgusting the Government plan to spend millions of pounds in this way, instead of spending it on decent things like schools, hospitals and building new homes. 
According to public sources of information, it now looks as though the replacement of Trident could cost well over £200 billion in its lifetime. This is completely unacceptable and represents a massive drain on public service budgets."
Dreadnought is the British programme to replace the 4 Vanguard class submarines which provide continuous at sea deterrence since 1992, with Dreadnought submarines to be introduced from 2030's onward with a lifespan of just 30 years. 
Dreadnought will be based at Faslane, just 30 miles away from Glasgow and will cost over £41 billion, one of the most expensive Government projects going forward. The annual cost of the Trident system is at least £2.2 billion per year which is the equivalent to what is spent on Income Support, Statutory Maternity Pay or Carer's Allowance.
To support the fight for nuclear disarmament, consider becoming a member of Scottish CND.
Details

Published on Thursday, 08 March 2018 10:42
This updated report, produced by PAX a member of the Nobel Peace Prize winning International Campaign to Abolish Nuclear weapons (ICAN) is the only report detailing the global investments by financial institutions in companies producing nuclear weapons.
This document extraction provides information on UK's banks. Check out the hall of fame and hall of shame lists as well as the nuclear weapons producing companies. If you want to hear more about this campaign please send us an email. If you have an account with RBS please contact them on this issue (details here).
Did you know?
26 Financial Institutions made an estimated USD$ 33,928 million available to nuclear weapon producing companies since January 2014.  But, since the adoption of the UN Treaty on the Prohibition of Nuclear Weapons, 30 financial institutions have ceased investing in nuclear weapon producers.
Below is the Press Release put by Don't bank on the Bomb Scotland
Details

Published on Monday, 05 March 2018 09:26

Scotland Endangered, 17 March
(Helensburgh Parish Church Halls, Colquhoun St, 10.30 - 6 pm, organised by Helensburgh CND)
Join Helensburgh CND and their conference to hear about the hazards associated with nuclear weapons regardless of whether or not anyone ever actually pushes the button.
Radioactive materials are transported on our roads, from our airports and on our railways, and our air and water are contaminated by radioactive elements and processes.
The transportation, use and storage of nuclear weapons and materials have involved numerous incidents and mishaps, nearly all of which are in the public domain, and when taken together paint a hugely frightening picture of the Trident Nuclear Weapons System in Scotland - a major accident waiting to happen, and for which there has been little or no preparation. The likelihood of such an event has only been increased due to the aging of the current Trident system, and also because of the financial constraints owing to the eye-watering cost of Trident both present an future.
For those unable to make it, the event will be live-streamed here.

Programme
10.30 Registration, 11.00 Start
Opening (Arthur West, Chair of Scottish CND)
Short Film: Benchmark 6 (David Newbigging Filmmaker & Artist)
11.20 Unit 1 Transportation (Chair Ruth Wishart, Columnist & Broadcaster)
 Nukes of Hazard (Rob Edwards, Investigative Journalist)
 Unready Scotland (Jane Tallents/David McKenzie, Nukewatch)
 Activist (Brian Quail, Scottish CND)
 Highlands Against Nuclear Transport (Tor Justad)

1.00 - 1.45 Lunch Break (soup & sandwich lunch provided)

1.45 Unit 2 - Contamination (Chair Alannah Maurer, Navy Not Nuclear)
 Dumped at sea (Alonso Latrina film about nuclear waste disposal)
 Tritium (Dr Ian Fairlie, Respected Independent Consultant on
Radioactivity in the Environment)
 Epidemiology (Dr Ian Fairlie, as above)

3.15 - 3.45 Refreshment break (tea/coffee/biscuits provided)

3.45 Unit 3 - Degradation (Chair Isobel Lindsay, Vice Chair of Scottish CND)
 Playing with Fire (David Cullen, Nuclear Information Service)
 Trident Nukes Present and Future (Martin Docherty-Hughes, MP for
West Dumbartonshire)

5.55 Closing
6.00 Finish
Floor Manager: David Newbigging (As above)
Livestream: Kevin Gibney (Independence Live)
Details

Published on Monday, 19 February 2018 10:12
The next monthly vigil of the Peace Network will take place next Thursday, February 22, from 5 to 6 pm at Dewar's statue on Buchanan Street in Glasgow city centre. Scottish CND will have a stall just before the vigil - from 3 pm.
We just held a vigil in Paisley with a good turn out and a positive response. This is our third year of vigils at Dewar's statue and we hope to build on the success of the Paisley vigil. The weather is getting warmer and the days longer so JOIN US. 
Details

Published on Friday, 16 February 2018 11:53
Scottish CND has received the very sad news that John Jappy passed away.
"John Jappy made a massive contribution to Scottish CND and the wider peace movement down the years.
I am very sad to hear he has passed away and we are grateful for his commitment down the years."
Arthur West - Chair of Scottish CND
If you want to read John's blog please visit this
page.
Details

Published on Monday, 12 February 2018 10:56
As we start a New Year Scottish CND is working on ideas to continue the struggle to rid our country and our world if the scourge of nuclear weapons.
Our plans for 2018 include the organisation of a national Rally at the Faslane Nuclear Weapons Base on Saturday September 22nd. This Rally will be preceded by a March from the Faslane Peace Campaign just outside Helensburgh to the base.
It is expected that representatives from peace movements in various parts of the world will speak at the Rally. An invite is also being sent to Scotland's First Minister Nicola Sturgeon to speak at the Rally.
One of the main themes  of the March and Rally will be the continuing campaign to get scrap the Trident nuclear weapons system which is housed at Faslane. These weapons of mass destruction cost millions of pounds to maintain and this is money badly needed for investment in public services such as health and education. However the March and Rally will also highlight the Treaty for the Prohibition of Nuclear Weapons which was passed at a special session of the United Nations in July 2017.
This ground breaking and historical treaty was supported by 122 countries .
The treaty opened for signature on September 20th 2017 and will remain open for all states to sign and ratify. Unfortunately the UK Government has shown no signs of recognising the treaty.
However despite this lack of interest from the UK Government the treaty has a very good chance of becoming part of international law in the not too distant future. Basically when 50 countries sign and ratify the treaty it becomes part of international law. It will then be binding on those countries not to develop,test,acquire or threaten to use nuclear weapons.
Scottish CND are confident that as support for the treaty develops it will have a practical and political impact on the UK Government .If the treaty becomes law it will put nuclear weapons possession clearly beyond the pale. It will also reduce the status or political value attached to these weapons.
As well as the March and Rally Scottish CND is also planning to organise a number of activities to mark the 60th anniversary of CND.
These plans include:
A summer full of outreach activities, street work and stalls at festivals across Scotland "The Nuclear Ban Tour"
The development of a mobile exhibition called Scotland - a Peace of History. This exhibition will look at the Scottish journey of CND and the wider peace movement. It is hoped to launch the exhibition in Autumn 2018 and encourage local groups, schools and other supporter organisations to take the exhibition to various places across Scotland .
Peace Education Scotland which is the educational arm of Scottish CND are organising a Youth Peace Campaigning Academy for more than 100 young people. This exciting project will take place in Glasgow in July 2018 and will involve a 3 day programme on all aspects of campaigning work. Sessions will cover issues such as communications tactics, grassroots empowerment and digital engagement.
Details

Published on Thursday, 08 February 2018 09:31
CHANGE OF DATE FOR FASLANE RALLY (NOW ON 22ND 
SEPTEMBER)
SCND held an executive meeting this evening where it was decided that we would postpone the rally we had planned when ICAN won the Nobel Peace prize which will be held at Faslane Nuclear Base in order to avoid a clash with an independence rally in Glasgow. We hope this will work out well for us all. Watch this space for details of the rally which will be on the 22nd September.
Details

Published on Friday, 26 January 2018 09:54
Scottish CND are very worried about a recent announcement by the Bulletin of Atomic Scientists that the Doomsday Clock has moved thirty seconds closer to midnight , with 2 minutes to go.
Arthur West chair of Scottish CND said:
"This is very worrying news about the Doomsday Clock moving dangerously closer to midnight.
This news actually means that scientists have looked at the military and political developments of the last year and made the assessment that nuclear war and climate change are more likely to lead to disaster than would have been the case last year."
Details

Published on Wednesday, 20 December 2017 14:01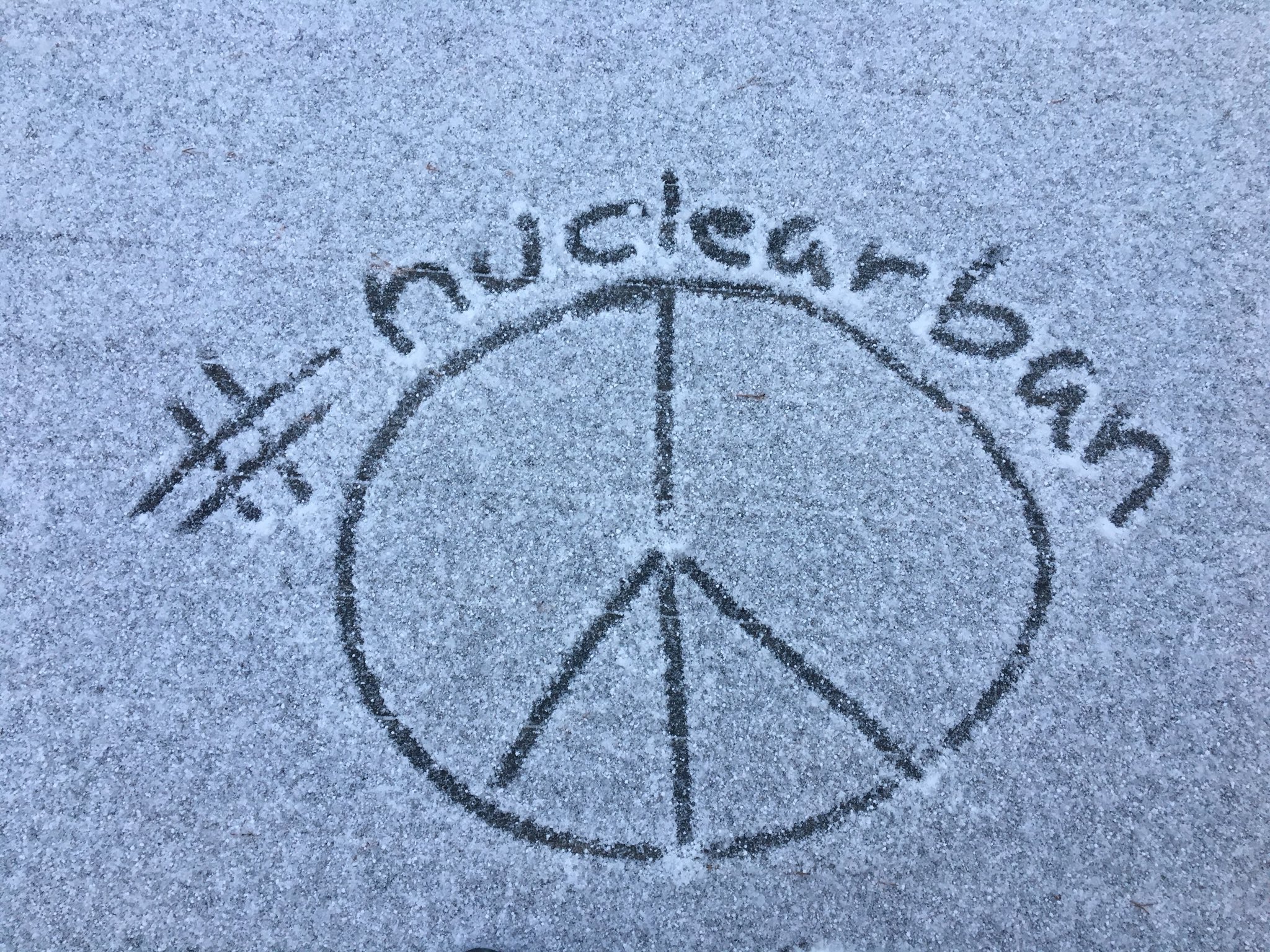 We wish all our members and supporters
Happy Holidays
and
Alll the Best for 2018.
We enjoyed 2017, the year we won the Nobel Peace Prize (as a partner of ICAN)
...and we are looking forward to 2018 , when we will be working to harder than ever get Britain signed up to the UN  Global  Ban Treaty.